Garfield's Nine Lives
Dec 10, 2014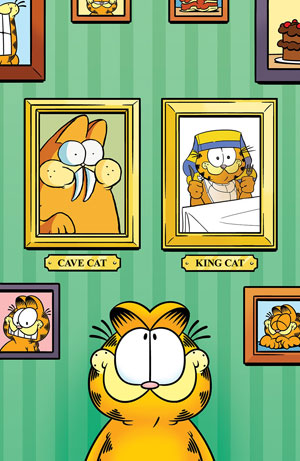 In 1984, Jim Davis created an instant classic with a groundbreaking series of illustrated short stories called Garfield: His 9 Lives, setting the Fat Cat in various eras. It went on to be an animated special in 1988 with some of the most unique reimaginings of Garfield. This January, KaBOOM!, the award-winning all-ages imprint of publisher BOOM! Studios, is pleased to relive this classic with a four-part event starting in January's Garfield #33: His 9 Lives, Part 1.
"Garfield: His 9 Lives was such a fun look at everyone's favorite Fat Cat that we couldn't resist inviting an all-star cast of cartoonists to carry on the torch," said BOOM! Studios Editor-in-Chief Matt Gagnon. "This is Garfield as you've never seen him before, depicted in each artist's own unique way across time, from Cave Cat to Space Cat. This is an event you won't want to miss."
The journey begins with "Cave Cat," as David DeGrand (Spongebob Comics) takes us back to Garfield's first life, during the earliest days of life on Earth. Then, Kari Smith (Plume) illustrates "King Cat," as we see how Garfield got down in Ancient Egypt. Subsequent issues will include contributions from Frazer Irving (Batman & Robin), Andy Hirsch (Garfield), Roger Langridge (Snarked), Brittney Williams (Adventure Time), Yehudi Mercado (Rocket Salvage), and Genevieve FT (Adventure Time).

Garfield #33: His 9 Lives, Part 1 (NOV141154) arrives in comic shops from KaBOOM! on January 7th with a cover price of $3.99.