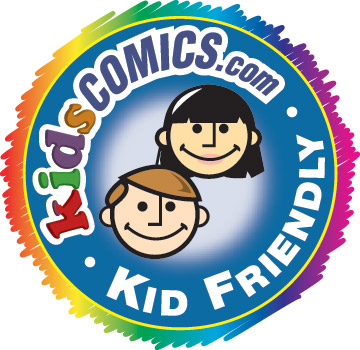 The PREVIEWS catalog is full of great comics for young readers, and December's Kids Comics column is full of fun kid friendly comics. This month Cutie Mark Crusaders discover their inner detectives in My Little Pony, Donald Duck is still diabolical in Duck Avenger, and Anakin Skywalker competes in a podrace in a Star Wars Adventures TP!
Every month we pick a few titles out of the PREVIEWS catalog that any comic reader will love, no matter their age. Whether these stories are for a young reader new to comics, or a great all-ages story perfect for you, these stories make a great addition to any bookshelf. Look below to see the titles that will soon arrive at your local comic book shop along with many more great comics and toys, and be sure to pre-order your favorites!
---
My Little Pony: Ponyville Mysteries #1
This is not business as usual. Oh, no. Time isn't available for fun. Something wicked this way comes! Something doesn't add up! So do not expect the usual Pony story here: welcome to a new series of mystery and intrigue that IDW calls My Little Pony: Ponyville Mysteries #1 (MAR180479). It seems that there's more to the Cutie Mark Crusaders than meets the eye. It turns out that they've discovered their inner detectives, and what they've learned is that they alone can solve crimes nopony else can! Watch as they get down to the bare facts to unveil they mystery surrounding the Ponyville hospital. Marvel at how they get their schoolwork done at the same time! Maybe. A sister series to the popular "My Little Pony: Ponyville Mysteries" prose books, you'll find My Little Pony: Ponyville Mysteries #1 from IDW Publishing in the Premier Comics section of the March PREVIEWS catalog!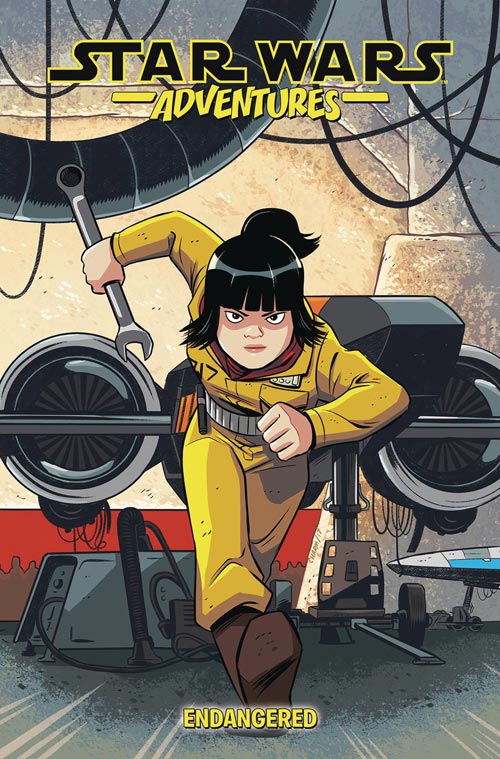 Star Wars Adventures Volume 3: Endangered TP
The beautiful thing about Star Wars is that it grows. It never shrinks. It only expands. There are always new characters introduced. New backgrounds for you to learn. It always makes for interesting reading. In this book, Rose Tico is featured as the breakout character from The Last Jedi. Even better, a behind-the-scenes operator-takes center stage in the fight against the First Order! Just when you thought you knew what was going on in the galaxy far, far away, you're proven wrong! One minute you think you only have to focus on Anakin Skywalker as he competes in a podrace that's unlike any he's seen before, and the next minute you're following Ezra Bridger, Hera Syndulla, and the rest of the Ghost crew as they try to retrieve a sacred bird from the Empire's clutches. The problem is that space pirate Hondo Ohnaka might get it first! Sparks are going to fly in the Star Wars Adventures Volume 3: Endangered TP (MAR180511) that collects Star Wars Adventures issues #6-8. Look for it in the March PREVIEWS!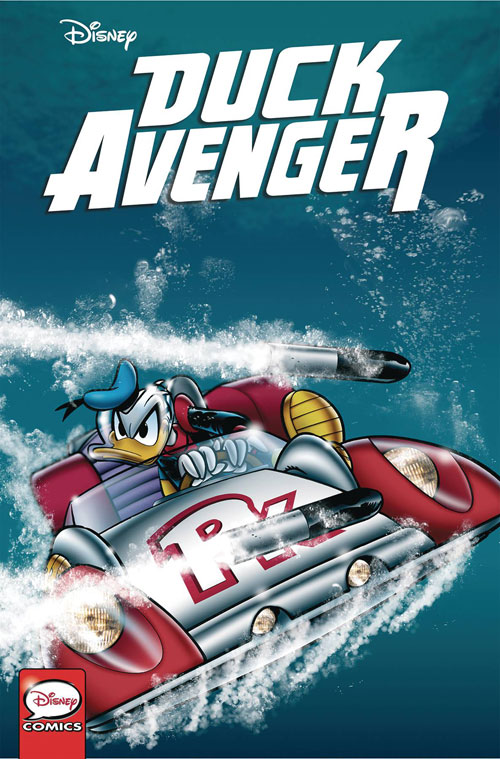 Duck Avenger New Adventures Book 3 TP

How would you like to be stuck ina body that didn't fit right? Imagine how crazy Donald must be when he no longer has control over himself once he turns into the Duck Avenger! Donald's a fun-loving guy! Ok, he may have a temper, but that's nothing compared to the diabolical mind of the Duck Avenger! But that's what makes these world-famous sci-fi adventures of Donald Duck the ones that fans want the most! So do yourself a favor, and pick up the Duck Avenger New Adventures Book 3 TP (MAR180499) from IDW Publishing so that you don't miss how time travelers want Donald to battle space aliens in the distant future! It's never a dull moment for the Duck Avenger. Not even duck-made earthquakes will stop him. Supercomputers? Bah! Just another day on the job! Look for all the wackiness in this new TP which you'll find in the March PREVIEWS comic shop catalog!
Adventure Time: Beginning of the End #1

Ever try to walk back a promise? How many times have you found yourself wishing you didn't open your mouth? Maybe you just should have stayed in bed. Some things just aren't worth fighting. Just ask Finn. He'll tell you some days it just pays to stay in bed because he just broke a promise he can't remember making, and now he's confronted by Chronologius Rex, the lord of Hours and All Time. Oh, joy! What a fun day, right? How would you like to find yourself in this situation: Finn's life is going to be consumed in the infinite first of the fourth dimension...unless he and his friends back home can find THE moment that explains it all....and THEN Finn can be allowed to go back to Ooo. How would you like to have that on your list of things to do? No? Well, Finn feels the same way. But he has to go through it anyway, so check out Adventure Time: Beginning of the End #1 (MAR181251) and see if Finn fails...and goes beyond the Vanishing point. Look for it in the March PREVIEWS!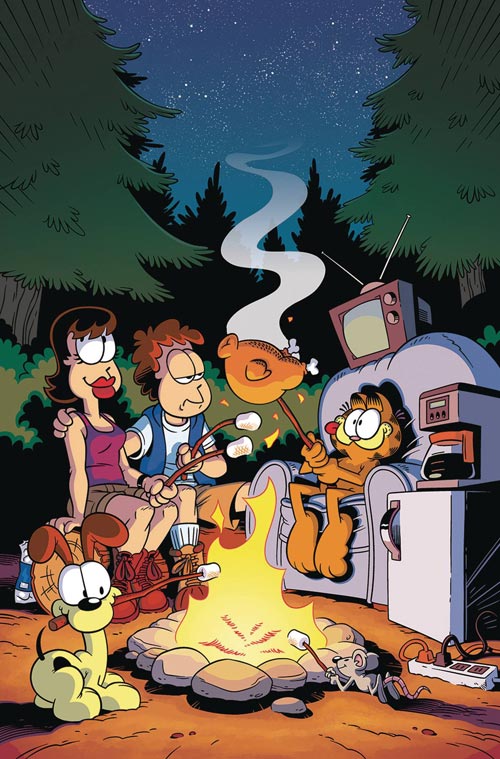 Garfield 2018 Vacation Time Blues #1

He's been eating Jon out of the house since 1978. Odie has been his pal or punching bag for the whole run. And Jon? Well, Jon ha been doing his best to keep up with his cat, and his pet dog that is always quick to show the man of the house that the fastest way to a pet's heart is through its stomach! So hold on, people! Here we go again with Garfield 2018 Vacation Time Blues #1 (MAR181304), a new adventure into the great wide open in which Garfield and Odie are ready to eat outdoors complete with the comforts of home, and Jon will try to find a way to keep from breaking up with Liz! Oh, and then there's the matter of how things will go at the beach. Fun in the sun might be in danger of being cancelled because of giant sharks in the water. But if you think that's going to send people running out of the water screaming for their lives, wait until they have to be faced with the Lasagna Monster! Hot and hilarious hijinks await you in this all-ages book from BOOM! Studios that you can find in the March PREVIEWS comic shop catalog!
These are just a few of the cool Kids Comics you can pre-order from the March PREVIEWS!
Look for the Kids Comics icon throughout the catalog and make sure to visit KidsComics.com to see the all-ages titles coming out this week!